June 26, 2017
Karen Pekle, nurse practitioner at the Weill Cornell Medicine and NewYork-Presbyterian (WCM/NYP) Myeloma Center, was awarded the 2017 Oncology Nurse of the Year Award in Charleston, South Carolina by the Hotel Keys of Hope Program – a joint initiative between Extended Stay America and the American Cancer Society.
"Karen was chosen for this year's inaugural Oncology Nurse of the Year Award from among hundreds of submissions from patients around the country," said Amanda Kent, Social Media Coordinator at Extended Stay America. "Karen's story really spoke to us and the rest of the voters. The amount of hope she provided in a time of need was amazing. And after meeting Karen, I can honestly say that anyone would be lucky to have her by their side during their fight with cancer."
According to Dr. Ruben Niesvizky, Director of the Weill Cornell Myeloma Center, "Karen is not only a founding member of the Myeloma Center, but a devoted nurse and excellent clinician, outstanding teacher and accomplished researcher. She is respected and beloved by patients and colleagues alike. We're honored to have her as a leader on our team."
Since Hotel Keys of Hope's inception in 2013, the program has changed the lives of more than 12,000 cancer patients and their families who often travel far distances to receive specialized care, providing them with a home away from home during cancer treatment. Olivia Chin is one of those patients.
Over the course of a year and a half, Olivia visited approximately 20 different doctors in an effort to get to the bottom of the severe pain she had been experiencing in her hips, legs and feet. Frustrated and still in pain after many misdiagnoses, she decided to travel to New York City to visit Weill Cornell Medicine and NewYork-Presbyterian Hospital in 2008.
It was during this visit at WCM/NYP that Olivia finally learned that her unrelenting pain was caused by multiple myeloma, a rare blood cancer known to cause bone fractures as the cancer cells crowd the bone marrow and weaken the bones. And it was through this journey with myeloma that Olivia was introduced to Karen.
"Karen has saved my life at least once, if not twice. In addition to her medical acumen, she genuinely cares about her patients and always goes above and beyond without even thinking twice. Whether offering me her nearby apartment to stay in during treatment, remaining by my side during hospitalizations, or just being there for me during really difficult periods in my diagnosis, she's provided me with hope and I greatly value both our professional relationship and our close personal friendship," said Olivia Chin. "When I saw that the Hotel Keys of Hope Program was honoring nurses who had gone the extra mile, I immediately nominated Karen."
Once a month, Olivia travels four and a half hours from her home in Upstate New York to the Weill Cornell Myeloma Center in New York City. The Extended Stay America hotel's Hotel Keys of Hope program helps make this possible – and comfortable – by alleviating the financial burden of finding somewhere to stay.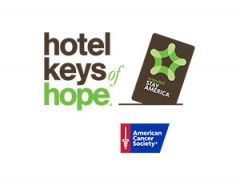 The Hotel Keys of Hope program has pledged a total of 150,000 free or deeply discounted rooms at locations throughout the United States so that an estimated 15,000 cancer patients and their caregivers can save over $5 million in lodging costs and get access to potentially lifesaving cancer treatment. Learn more about this program and how to reserve a room: https://www.extendedstayamerica.com/acs-partnership