December 9, 2017
Researchers and physicians at the Weill Cornell Medicine and NewYork-Presbyterian Multiple Myeloma Center presented cutting-edge research at this year's American Society of Hematology (ASH) Annual Meeting and Exposition, an educational gathering of over 25,000 clinicians and scientists from around the world who are working to conquer blood disease.
Our team was involved in exciting, new research presented at the meeting which helps to advance the overall understanding of myeloma and the latest treatment options, as well as improve clinical outcomes and quality of life for those affected by the disease.
Here are some research highlights:
Dr. Adriana Rossi, Associate Clinical Director at the Weill Cornell Myeloma Center, highlights the correlation between treating myeloma patients with continuous maintenance therapy and greater survival rates. Prior evidence already supported that maintenance therapy after stem cell transplant provides a progression-free and overall survival advantage in patients with multiple myeloma. The downside is that ongoing treatment could have a negative impact on a patient's quality of life, and this area has only been studied in a few clinical trials. This clinical trial assessed the impact of active maintenance therapy compared with no maintenance therapy on the quality of life following an initial stem cell transplant in patients with multiple myeloma. While there are some residual side effects of maintenance therapy, the results suggested that maintenance therapy is not associated with a notable decline in quality of life.
View the full study abstract: Dr. Rossi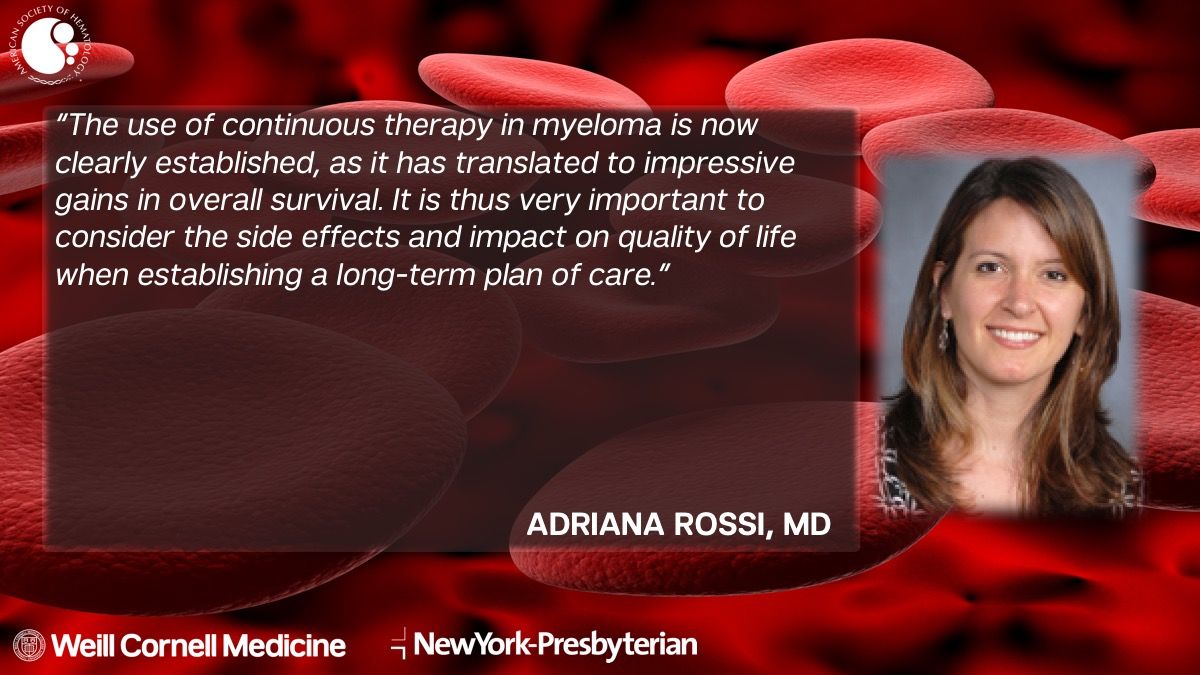 Dr. Rossi and collaborators evaluated eltanexor - a second-generation oral medication also known as a selective inhibitor of nuclear export (SINE) compound -€" for safety, tolerability and preliminary anti-myeloma activity. In this early phase clinical trial for patients with relapsed or refractory multiple myeloma, results showed that eltanexor was well tolerated and demonstrated promising activity in patients who had already received treatment for myeloma. Additionally, the gastrointestinal side effects were limited and dosing did not need to be adjusted to compensate for these side effects. Based on these promising results, eltanexor is now also being tested in many other cancer types, including advanced colorectal cancer, castration resistant prostate cancer, and myelodysplastic syndrome.
View the full eltanexor study abstract: Dr. Rossi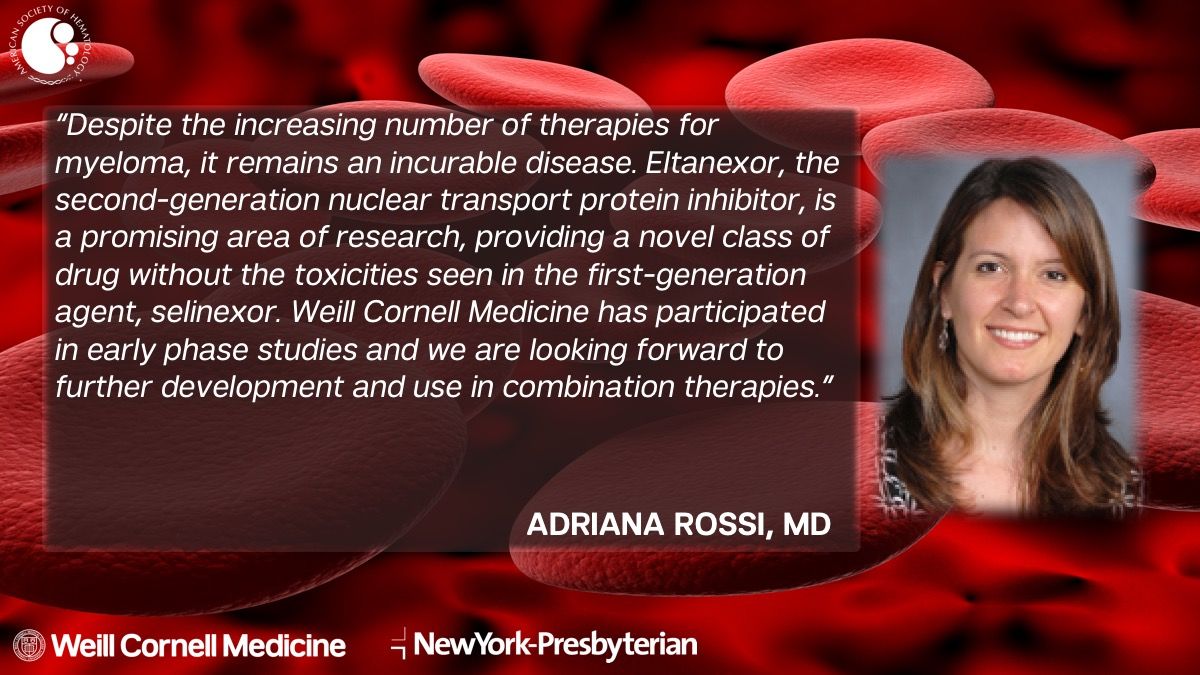 Dr. Ruben Niesvizky, Director of the Weill Cornell Myeloma Center, presented key findings from the randomized phase III ENDEAVOR clinical trial which enrolled 929 patients, and compared carfilzomib versus bortezomib, in combination with dexamethasone to treat older patients with myeloma. Elderly patients with multiple myeloma represent a more challenging population to treat since they are frequently not eligible for bone marrow and stem cell transplant, and it is imperative that these patients have effective treatment options available. Carfilzomib, a proteasome inhibitor, is currently approved in the United States as well as other countries for the treatment of relapsed or refractory multiple myeloma. Bortezomib is a proteasome inhibitor anti-cancer drug, approved in the United States and Europe for treating relapsed multiple myeloma and mantle cell lymphoma. Results from the trial demonstrated that regardless of age, in patients with relapsed or refractory multiple myeloma carfilzomib in combination with dexamethasone resulted in longer median progression-free survival and higher overall response rates than bortezomib in combination with dexamethasone. Overall, these results support the use of carfilzomib in this patient population.
View the full study abstract: Dr. Niesvizky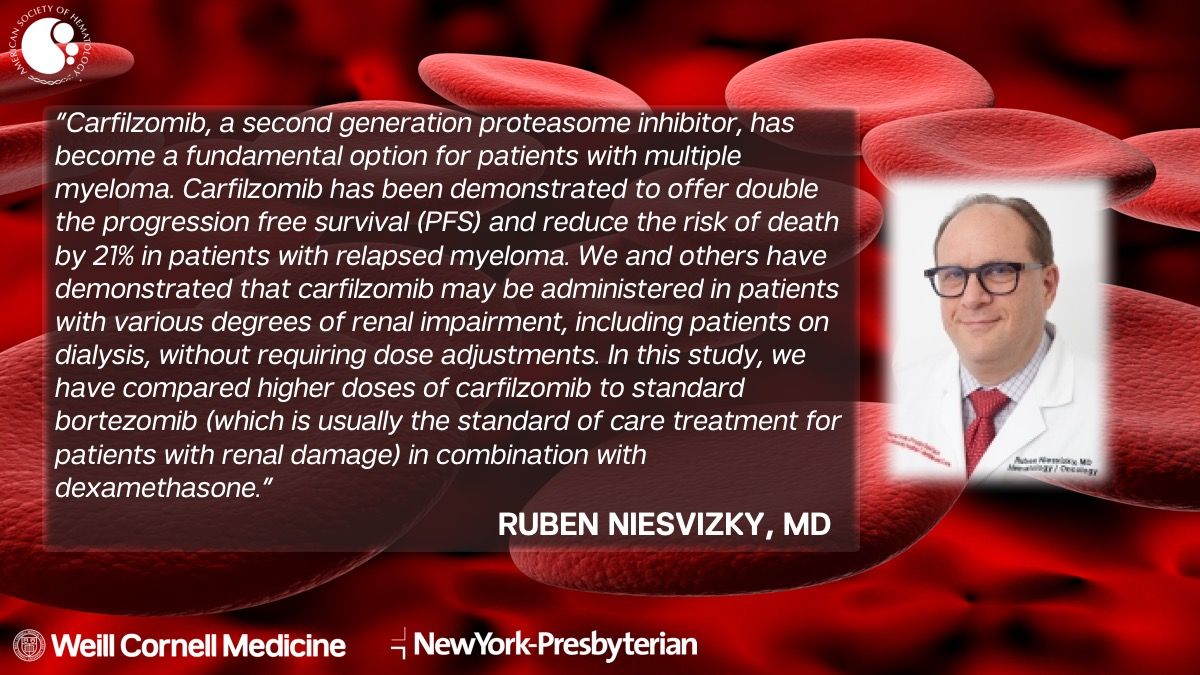 Dr. Ruben Niesvizky and collaborators also analyzed the ENDEAVOR trial to evaluate the appropriate dosage of carfilzomib in patients with relapsed or refractory multiple myeloma with various degrees of kidney damage. Kidney damage frequently occurs in patients with multiple myeloma. This is because in myeloma, abnormal proteins can travel to the kidneys and deposit there, causing obstruction in the kidney tubules and altered filtering properties. Additionally, elevated blood calcium levels, an indicator of myeloma, can cause crystals to form in the kidneys, also resulting in damage.
Results from the study demonstrated that carfilzomib has a favorable benefit-risk profile and should be considered as the new standard of care in patients with relapsed or refractory multiple myeloma, regardless of age and severity of renal impairment.
View the full study abstract for this subset of data in the ENDEAVOR trial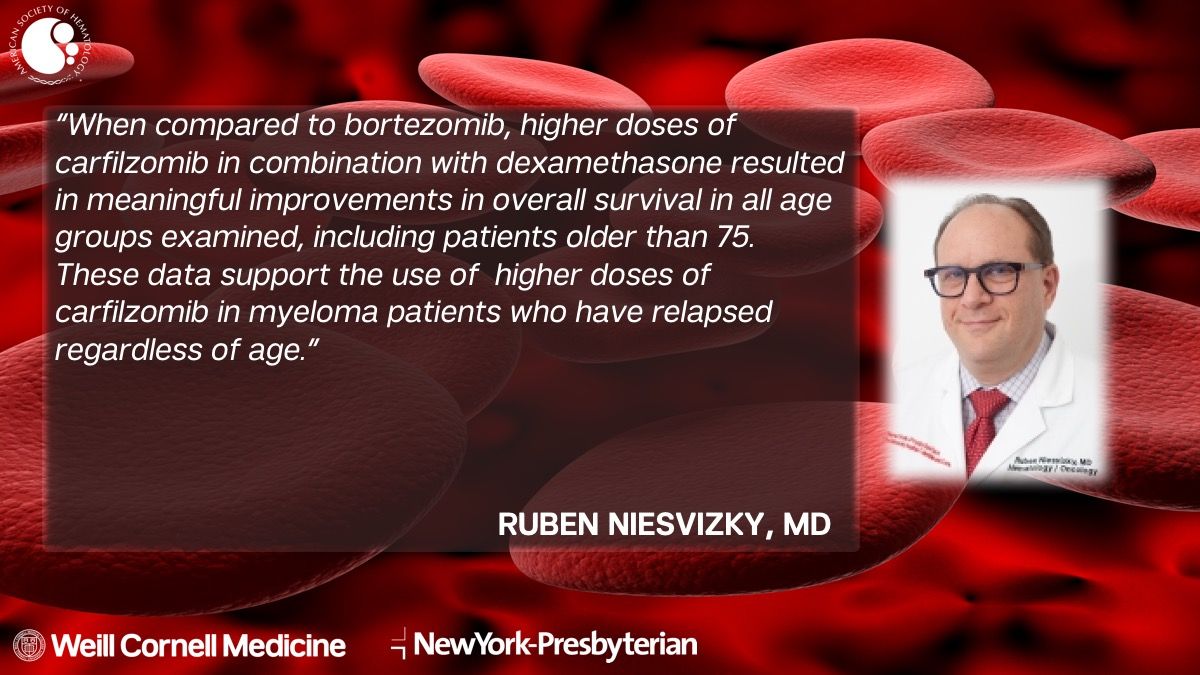 Dr. Alexandra Gomez, hematology and oncology fellow in the Division of Hematology and Medical Oncology at Weill Cornell Medicine and NewYork-Presbyterian, presented findings from a phase II clinical trial evaluating a novel conditioning strategy for autologous transplant in multiple myeloma. This trial was designed to establish the efficacy of bendamustine, an anti-cancer chemotherapy drug known as an alkylating agent, in combination with melphalan, also an alkylating agent chemotherapy drug, in patients undergoing an initial autologous stem cell transplant. In a small group of patients, results showed that this combination was well tolerated and indicated promising efficacy. More than half of the patients had deep myeloma responses, and the time to relapse after transplant appeared longer than with the standard melphalan alone.
View the full study abstract: Dr. Gomez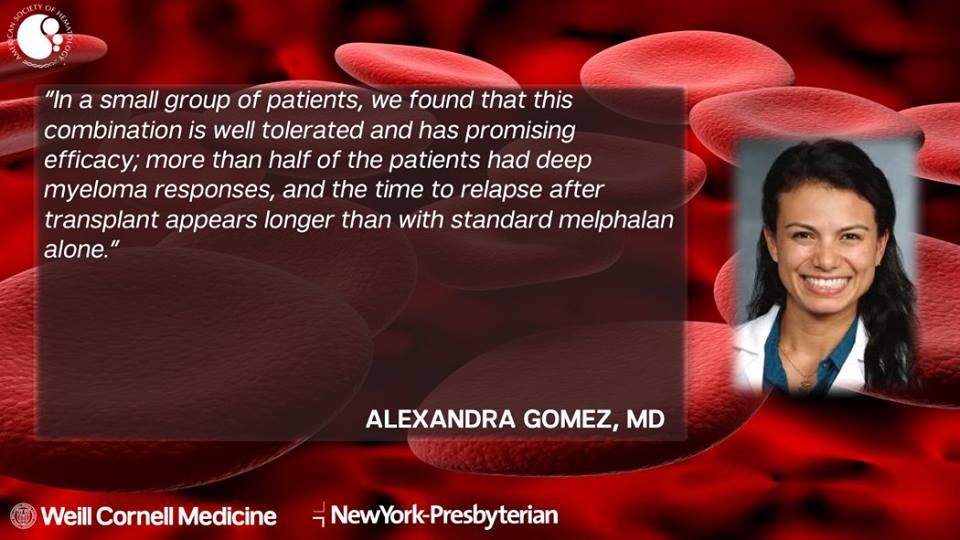 We are incredibly proud of our team's involvement in cutting-edge research that was presented at this year's ASH meeting, as this speaks to our steadfast commitment to improve the lives of those with myeloma.