February 20, 2018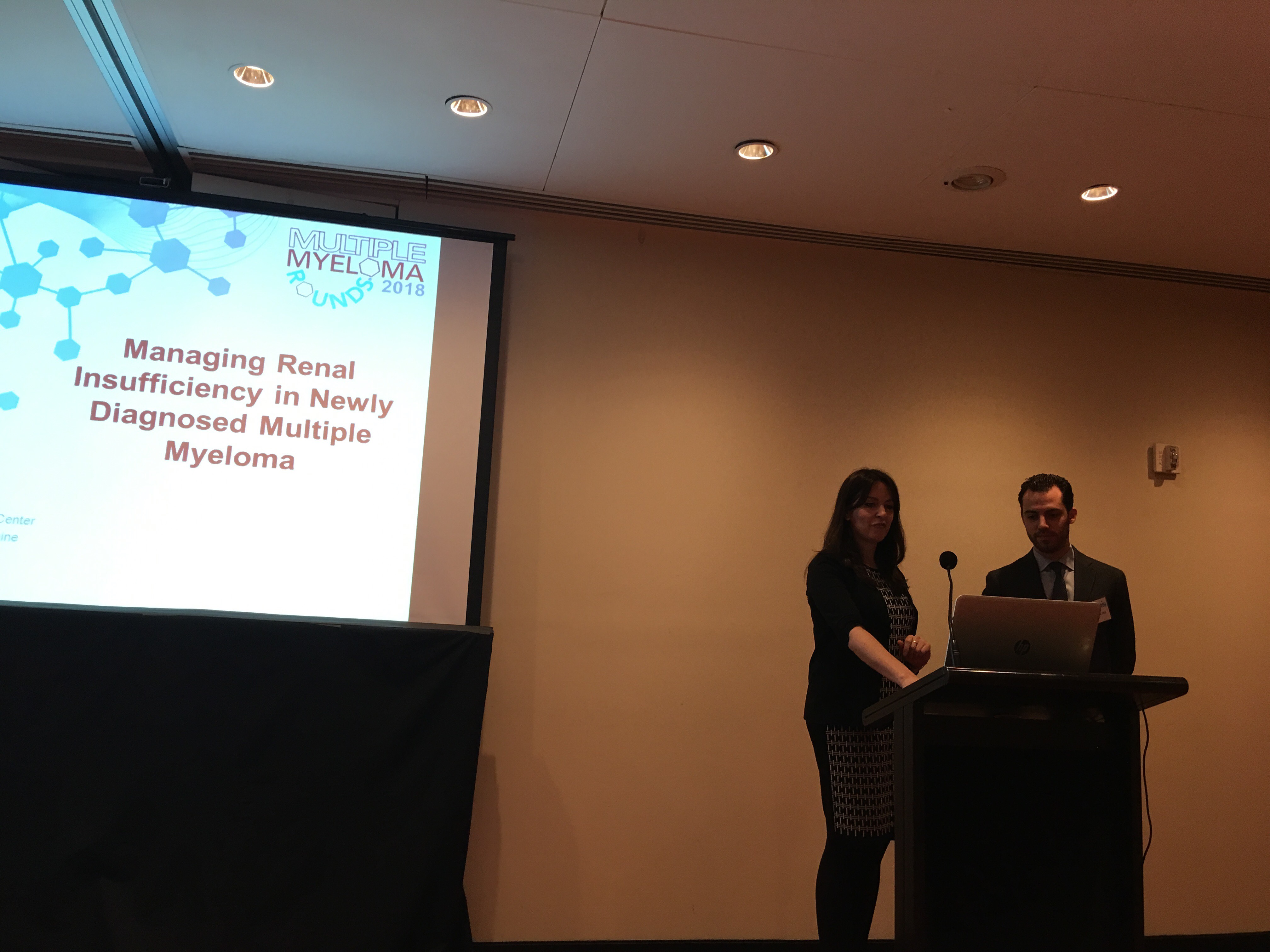 The national Multiple Myeloma Rounds Program was established in 2016 to provide a forum for local healthcare professionals to meet on a regular basis and address specific issues related to the diagnosis and treatment of multiple myeloma patients. Multiple Myeloma Rounds offers the opportunity for attendees to exchange information, network with colleagues, share best practices and learn the latest information on new therapies and advances through interactive case studies and presentations by experts in the field.
Initially, the program started as a result of a collaborative effort between specialists at several institutions in the Chicago area. As a result of the success of the Chicago Multiple Myeloma Rounds, it has quickly expanded to include a committee of 24 different institutions and 36 multiple myeloma specialists. In 2017, the Committee began implementing the Multiple Myeloma Rounds Programs in five cities across the country.
Four of the specialists of the Multiple Myeloma Rounds Program Committee are physicians at Weill Cornell Medicine and NewYork-Presbyterian's Myeloma Center, including Drs. Ruben Niesvizky, Director of the Myeloma Center, Adrianna Rossi, Roger Pearse, and Cara Rosenbaum.
At the recent CME-accredited Multiple Myeloma Rounds Program in New York City, several key opinion leaders and subject matter experts were invited to speak about topics related to myeloma patient care and treatment. Drs. Adriana Rossi, Associate Clinical Director at the Weill Cornell Myeloma Center and Jorge Monge, hematology and medical oncology fellow at Weill Cornell Medicine and NewYork-Presbyterian, presented on, "Managing Renal Insufficiency in Newly Diagnosed Multiple Myeloma. 
Dr. Rossi stated that more than half of all multiple myeloma patients will experience some degree of kidney disease – most frequently cast nephropathy (CN) – either at the time of diagnosis or throughout the course of the disease. She emphasized the importance of proper screening and detection, as reduced kidney function has been associated with poor prognosis and shorter survival. In order to bring this topic to life, Dr. Jorge Monge shared a case study highlighting how the implementation of supportive and myeloma-directed therapy, as well as an interdisciplinary treatment approach resulted in full recovery of a patient's renal function. 
Dr. Rossi shared four key takeaways and recommended interventions for myeloma patients:
Proper diagnostic testing is important to analyze kidney function. Blood chemistry tests, urine analysis, and in certain cases, kidney biopsies should be performed. If poor kidney function is detected, immediate treatment is necessary to improve the kidney's ability to filter wastes.
Red flags for kidney failure come in a variety of forms. For example, hypercalcemia is a condition in which the calcium level in the blood is above normal, which in turn makes the kidneys work harder than necessary. In addition, kidney failure can result from amyloidosis, a rare disease that occurs when a substance called amyloid – an abnormal protein produced in the bone marrow –  builds up in the organs, potentially leading to kidney and other organ failure.
Certain treatments can slow or reverse renal impairment. Anti-myeloma therapies, such as bortezomib-based regimens, have shown to be active and well tolerated in patients with multiple myeloma who present with or develop renal impairment.
Medications that can worsen kidney function should be avoided. Examples include nonsteroidal anti-inflammatory drugs (NSAIDs), such as aspirin or ibuprofen, contrast dyes used in MRIs and CT scans, and certain antibiotics. It is important that patients communicate with all of their physicians about any of their medications – both over-the-counter and prescription – so that proper precautions can be taken to avoid worsening kidney function.
Additionally, physicians from other area institutions presented on three additional topics – ranging from the treatment of frail or elderly multiple myeloma patients to management of patients at first relapse. An interactive Q&A session followed each of the presentations, allowing healthcare professionals the opportunity to learn from one another in an effort to improve patient care.